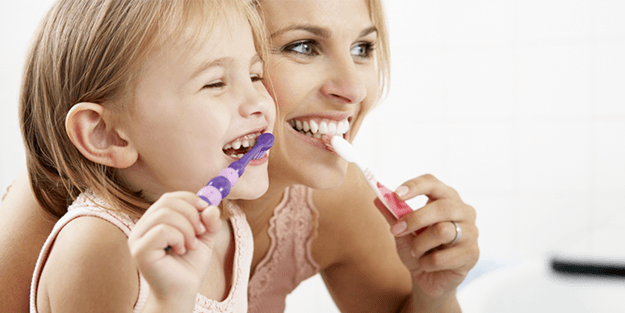 There are few more important things a parent can do to enhance their child's opportunity for a lifetime of good oral health than to help your child develop a mindset that brushing and flossing are a fundamental part of taking care of their body.
Below are six steps to get your child on the path to making oral care routines easy in your home.
BRUSH TOGETHER
An essential part of teaching your child anything, involves modeling the behavior you want them to emulate.  If your toddler has always seen you brushing and flossing, they will want to do it as well.  Let your child take a turn at doing it themselves so they feel invested in the routine, but until they are old enough to get all parts of their mouth properly, you should also take a turn before or after to make sure it is done properly.
GIVE YOUR CHILD SOME INPUT IN TOOTHBRUSH AND TOOTHPASTE SELECTION
There is so much of a child's life that they have no control over.  Letting your child select their own toothbrush and toothpaste is an excellent way to make them feel invested in their oral hygiene.
SING A SONG, PLAY MUSIC & SET A TIMER FOR 2 MINUTES
Two minutes can seem like a long time to brush for a child.  To help them understand how much time that actually is, there are a variety of methods you can use to help put the amount of time in perspective for your child.  Use a timer so they can see how much time they have brushed and how much time is left.  Play or sing a 2-minute song.  Some of our favorites can be found here:  https://www.mouthhealthy.org/en/kids-brushing-playlist
BRUSH AND FLOSS IN FRONT OF A MIRROR
Next to watching a parent brush and floss, one of the best ways to learn how to properly brush and floss is to watch yourself doing it in a mirror.  This way your child can actually see their teeth as they follow their oral hygiene routine.
DON'T THREATEN THEM ABOUT CAVITIES OR A BAD DENTAL VISIT IF THEY'RE NOT COMPLIANT
One of the worst things a parent can do to sabotage compliance with oral hygiene and to create fear of the dentist is by threatening your child with a bad dental check-up, or worse yet, by telling them they will have a painful experience getting cavities filled. Oral care should always be viewed with a positive attitude and not with fear.
CREATE A ROUTINE
To develop good oral hygiene habits in your children, it is important that brushing and flossing become part of your child's daily routines.  Morning teeth brushing should become part of their waking and getting dressed routines.  In the evening, flossing and then brushing should be incorporated into their bedtime routine.  Once oral hygiene becomes a pattern in their day, children are much more likely to eagerly take ownership of this very important part of their care.
You are now prepared with some tools to help your child develop great oral hygiene habits.  If you have any questions about these techniques or about your child's oral care, please don't hesitate to reach out to the experts at Pediatric Dental Associates of Randolph.