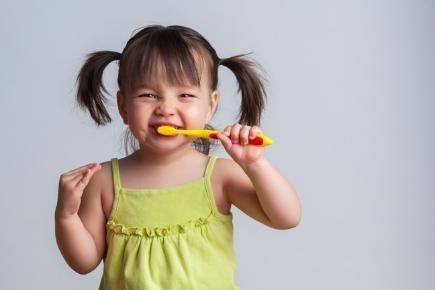 A child's first experience at the dentist can have a significant impact in their long term outlook toward oral care. The American Academy of Pediatric Dentistry recommends that children first be seen by a dentist with the eruption of their first teeth.
Pediatric Dentists receive at least two additional years of training beyond dental school to make them uniquely trained to care for a child's developing teeth. The staff and environment of a pediatric dental office is focused solely on the unique needs of children and their oral care.
The first dental appointment is generally a brief appointment where the dentist will check for tooth decay and examine the child's bite and look for any potential problems with developing teeth, gums, jaw and oral tissues. A hygienist will clean teeth and apply fluoride if indicated. During this visit the hygienist and/or dentist will also talk about oral hygiene at home and discuss proper nutrition and any foods that may contribute to tooth decay, such as going to sleep with a bottle of milk.
The Pediatric Dentists, hygienists and front desk staff at Pediatric Dental Associates of Randolph have a long standing reputation of excellence and are committed to making your child's first visit and everyone there after a positive experience. They believe that starting dental care with the eruption of the first baby teeth is so vital that they offer free exams for all children under the age of two. Additionally they are happy to answer any questions in advance of your appointment and welcome you to bring your child in to get comfortable in the office prior to their first appointment.